On slopes steep enough to barely sustain trees, a path has been cut along the Dudh Kosi canyon walls, with wire bridges crossing the river numerous times to reach Namche Bazaar. These flexible cable bridges are an upsized version of the ones commonly seen in New Zealand, engineered to withhold the weight of a train of Yaks or Donkeys.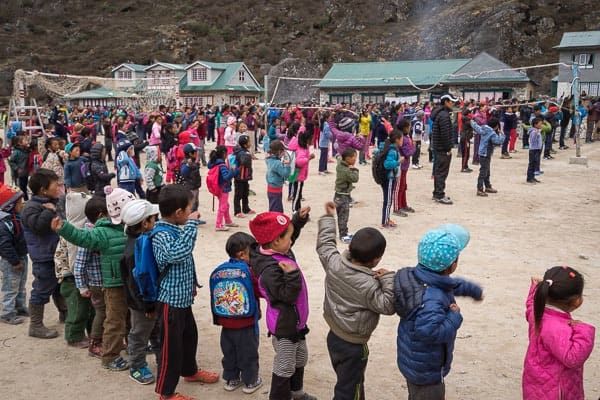 Namche Bazaar feels like a mistake. It's a bustling town, the closest thing to a city in the Himalaya, built in a horseshoe shape on slopes that wouldn't normally be the first choice for builders. But what were once terraced potato and grain fields is now hand carved brick buildings up to five stories high. We arrived into Namche early afternoon to the chip, chip, chip of stonemasons' hammers and set about getting final equipment requirements from the multitude of gear shops.
Our first full rest day was spent wandering the café's and bakeries as well as an early morning climb to the Sherpa Tenzing Norgay memorial and spectacular views of Ama Dablam and Everest, just a couple of days walk away. Damien treated himself to a knot relieving massage whilst I had a chance to catch up with a friend guiding an expedition to Island Peak.
Once on the move again we walked through Khumjung, where the School, Hospital and Memorial bear his name. We arrived in time to witness morning assembly which was a mixture of the teenage boys beating drums and shouting military drills. There were neat rows of boys and girls arranged from 3-15 waving arms and legs in unison under the watchful eye of teachers and towering Himalayan giants. Not a bad way to warm up at nearly 4000m above sea level.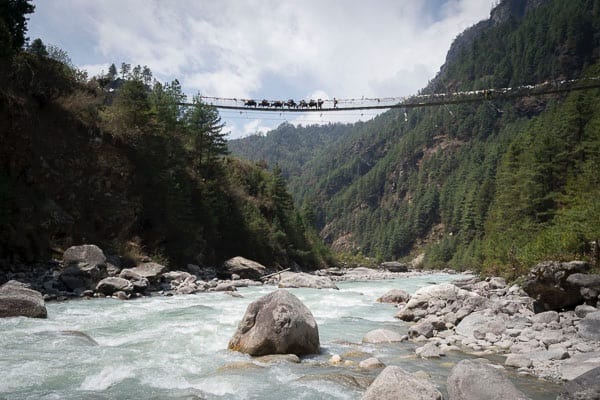 After lunch in Pangboche and a steady 600m uphill climb to Ama Dablam Base Camp we arrived at our home for the next couple of weeks. We're a couple of days early, so it naturally increases our options for tackling the mountain or fitting in another trek afterwards. Our aim is to be back in Lukla on 22nd May for a short flight to Kathmandu.
But now to the mountain business
We packed our bags with the high mountain essentials – crampons, axes, ropes, ice screws and harnesses – and set off the following morning for Camp 1 at 5750m. It was a long slow slog and the air felt considerably thinner. My watch confirmed the barometric pressure at 505 hectopascals, half the normal air pressure of sea level. We ate dinner and noticed that our appetites had diminished for the first time, and after dark that the headaches and the snow arrived.
The small amount of snow we received gave a beautiful white coat to everything in view. We could see that it had blanketed everything down to Base Camp and Pangboche. Neither of us had much of an appetite so a Muesli Bar and cup of tea was forced in before beginning our descent back to Base Camp. The first few hundred metres of descent were slower going on the snow covered slabby rocks, but the further we dropped the better we felt. Finally, back at camp, our headaches had disappeared and our appetites returned.
A full day of rest at Base Camp yesterday gave us a chance to recharge and plan our meals and equipment for a summit attempt. A favour from a Kiwi heli pilot boosted morale with supplies of fresh fruit and vegetables dropped in for us.
There are four days of good weather coming up and we're heading back to Camp 1 this morning, ready for a summit attempt in a couple of days. The terrain beyond Camp 1 looks excitingly narrow, steep and exposed.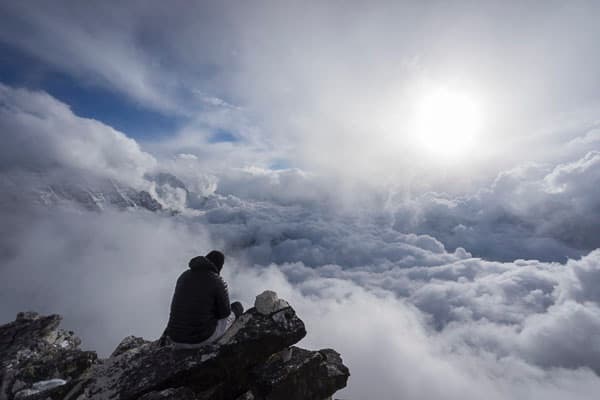 We've now clocked up over 10,860m vertical ascent and 8050m descent and although the knees and joints feel tired at the end of the day, we're still feeling fit and strong, with our appetites as strong as ever.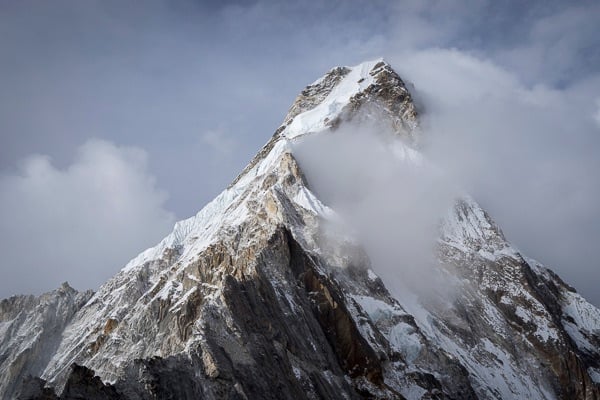 Namaste from Ama Dablam Base Camp 4550m
Read the first part of the Ama Dablam Expedition update.