Success is in the summit. Wrong.
Keeping fingers and toes, returning to family and keeping a level enough head to know when to turn around are all signs of success. We were prepared to throw everything we had at our summit bid, even trying on two separate days, but we weren't prepared to go there at all costs.
Our two-day rest and recovery programme worked well. We felt fitter and stronger back at Base Camp and after an initial day of eating, resting and cleaning we headed down to Pangboche almost 600m lower, to stock up on some food for up high on the mountain. The descent and ascent times were almost identical and we could really feel the effect that the acclimatization to 6000m had made.
Back to Ama Dablam Camp 1
We moved swiftly back up to Camp 1, shedding hours off previous climbs, and met the Austrian team who had summited the previous day. One of the party was weary and dehydrated from the massive effort of the day before so we shared tea, orange and electrolytes. Normal colour began to replace his grey complexion.
We continued on to Camp 2 at 5990m where there were 3 Czech climbers, the remainder of their splintered group, and they were all descending except for one who would wake early to make a final solo attempt.
The cloud rolled in and light snow began to fall. It didn't stop after dark and by morning a 5cm fresh white blanket lay on the ground. The Czech climber hadn't moved. We ate a couple of breakfasts before finally setting off and the Czech began his descent. We'd worked harder the previous day to reach Camp 2 and now had just a few hours effort to get to Camp 3.
Snow continued to fall lightly during our climb back to our ledge, but we were confident that the cloud and murk would disappear on dark in order to open the window of opportunity on our summit bid. The forecast predicted an eight-hour clearance starting at midnight with light winds.
After about 4 hours sleep we woke at 10pm and were delighted to see clear skies. Some cloud lingered around the high peaks but things looked positive. We ate breakfast and by 11.30pm were ready to step outside. Unfortunately, the cloud had rolled in so we began to make other plans. Another look outside at midnight revealed the stars and summit again, so we set off into the cold.
The climbing we'd previously done was now feeling familiar and easier. It was still slow going but after climbing onto the Mushroom Ridge we realized that we'd moved almost twice as fast. Crossing the schrund and onto the main headwall I began scratching around for anchor placements but found none. The snow was rotten and wasn't deep enough to take a snow stake. I continued on to the cluster of fixed ropes poking out of the snow and although I couldn't assess them fully, a few tugs gave me some confidence.
Final Summit Attempt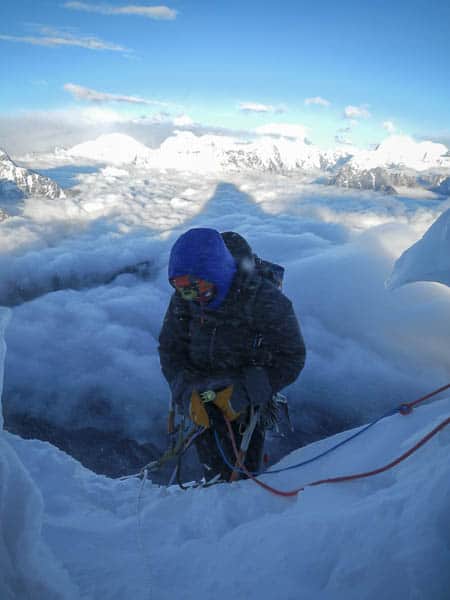 I belayed Damien up to my stance and continued the lead. The snow became even more rotten and in the dark all I could see was more of the same rubbish snow. Without a decent anchor we might as well take the rope off. I down climbed to Damien to explain the situation when the wind picked up. It was particularly chilly being whipped and ice blasted by 40kph winds. As we prepared to descend the wind gusts rose to 80kph and it was clear we were making the right decision to retreat.
Check out the scene from the abseil here as shot by Damien in the early hours.
Back at Camp 3 by 6.20am we fell into the tent and began the process of rewarming. The tent flapped around and the cool breeze made it feel particularly exposed for the first time. The previous 5 nights and days at that ledge had never ben windy.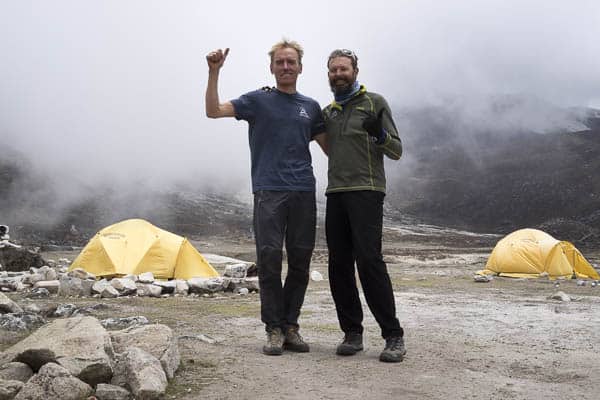 After a few hours rest we discussed the options and decided to make a final retreat. The forecast was for similar conditions the following day and it wouldn't change the state of the snow either way. Without reliable anchors we would be exposing ourselves to too much risk. We'd tried our best and had an incredible adventure along the way.
Lukla Airport
Lukla is at the modest altitude of 2800m and marks the end point of our efforts. We've climbed 15,720m and descended 12,500m. The air is thicker and warmer and the main challenge is getting out of town on a flight before the afternoon clouds build. I did a Google search and it revealed that Lukla airport has been rated the most dangerous to land at for nearly 20 years. The runway slopes downhill at almost 12 degrees and ends abruptly after just under 500m. There are no guiding lights or air traffic control so everything is done on sight and with the skill of the pilot. It's a short hop to Kathmandu (20 minutes flying time( but the weather can change quickly and pilots have been disorientated by the weather in the past and steered their aircraft into the side of the mountain.
So you see it's a far better idea to walk in and fly out as it's much safer to take off from Lukla. There isn't any rating to be found about take off crash rates.
That's all from the Ama Dablam 2017 expedition. We're feeling successful in our adventure and decision-making. We get to choose the next adventure and have already started plotting.
Thanks again for tuning in.