We laugh and joke and are in agreement that the real reason we go mountaineering is for the food. Not because mountaineering food tastes better, but because we can contentedly eat 'mountains' of food after being so active. Quantity or concern for overeating is absent and flavour is just a bonus. Put food in front of us and we're as happy as ever.
We returned to Camp 1 in a faster time on the second visit and had a large helping of Dal Baht, cooked up by Purna, our Base Camp Chef. We'd been disappointed by the quality of the high altitude food provided by our agent, and had reverted to simple, but heavy local food to bridge the gap. It's hard to get away from preservatives, MSG and artificial colours and flavours in the ready-to-go-foods, as there isn't an easy supply of healthier options. Cheap food, influenced by Western processes dominates the supermarket shelves.
The climbing began in earnest above Camp 1 and the line of fixed ropes marked the start of the adventure, leading the way through the more technical sections. Since it's impossible to test the integrity of the ropes from the ground up we climbed on our own rope, inspecting the quality and wear as we ascended. By the time we reached Camp 2 we were content to use the fixed rope as long as we were attached to at least two separate lines. Occasionally there's even a token washing line to clip to. Its breaking strength is unknown, but its bright yellow appearance never fades. Perhaps rope manufacturers could borrow from this.

The thinner air is the crux of high altitude climbing. Struggling to get enough oxygen to all the vital organs and maintain an acceptable level of performance is the goal of the mountaineer in this environment. Muscles don't tire, but the heart and lungs go into overdrive when a very physical move is required. We've been pack-hauling 20kgs up to 6200m and have gotten accustomed to taking 20-30 second breaks after strenuous moves.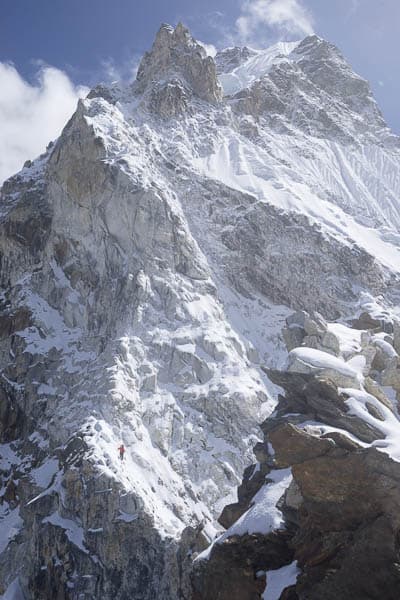 As we neared the top of the 'Grand Couloir' on our way to Camp 3 the clouds rolled in and graupel and snow began to fall. Graupel is a super cooled particle that is formed when water droplets bounce around in the atmosphere and join together to form a ball bearing, similar to hail. All of that bouncing around creates friction and in turn static. As I reached the long narrow ridge leading to the Mushroom Ridge, I got static shocks to my forehead. I dropped to my knees and wondered if I was about to be hit by lightning.
We were totally exposed to the elements. I stood up and was hit another couple of times before I decided it was time to dump all the metal gear strapped to my pack and feet. I spotted a narrow ledge and decided that this would be 'our' Camp 3. Damien was now within shouting distance so I explained what was going on. He'd been listening to his long ice axe humming on his pack but had not yet been zapped. His axe was poking out just high enough to draw the charge away from his head. He placed it in the snow on the highest point near our tent in the hope of drawing the charge away from us. It worked!
In the flurry of activity and concern for the next electric shock, I broke a tent pole. This could have made our tent space pretty uncomfortable but was quickly remedied by threading an ice screw over the joint. We took shelter and within a few hours the storm abated. I stepped outside and marvelled at the tiny little ledge we were perched on. Ten centimetres in either direction led to an overhanging drop to the valley floor 1500m below. It is breathtaking, but 'safe' nonetheless. We tied the tent to the fixed rope and clipped in, sleeping in our harnesses for extra security.
If you haven't already seen the 'Tour of Camp 3′, have a look here.
The following morning was clear and perfect for a summit attempt except that I woke with a piercing headache behind my eyes and no appetite. I drank a few sips of tea but craved rest, not action. We pulled the pin on an attempt and within a few hours it was snowing. It wasn't a day for climbing.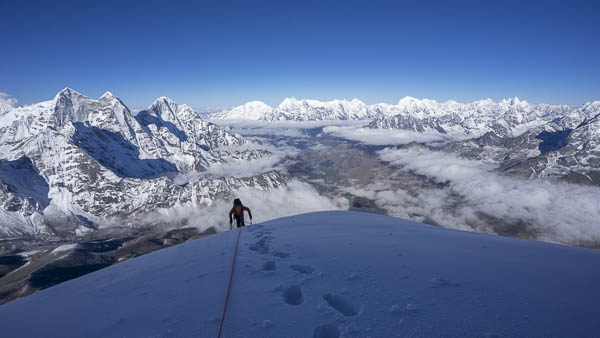 The rest was just what I needed and as I zipped the tent fly open the following morning I was disappointed to see a whiteout and more snow falling. We both felt ready but nature wasn't in agreement. We were now running low on food so I elected to descend to Camp 2 and return with some supplies. Fixed ropes protect the whole journey and I descended as quickly as I could. The return trip was extremely time-consuming even though I'd taken a very light pack. Damien was pleased to hear me crunch back into camp 2 hours later than planned. I'd returned with some MSG* laced two-minute noodles….. desperate times called for desperate measures.
* MSG = monosodium glutamate aka E621, a synthetic flavour enhancer, banned in infant foods but somehow permitted in all other foods.
We lined up our summit attempt with a good forecast. We had gotten used to the daily cycle of convection cloud rising mid-morning to bring us light snow, and we hoped that it would stay away long enough for us to get to the summit. We set off in the dark and pitched along the narrow, steep and exposed Mushroom Ridge. There were traces of fixed ropes on either side of the ridge buried in the snow and ice, but the anchors they were attached to were questionable and the single thin yellow nylon washing line didn't inspire any confidence in this kind of terrain. A real climbing rope was required.
Pulling over the steep final move onto the top of the Mushroom required all oxygen reserves. It was the finest piece of ice climbing we'd come across so far and it led to easier ground. Unfortunately, it took over 3 hours to get just over 100m above our Camp 3. This area was the more common location for Camp 3 and its flat and open nature is perfect for a camp, however, it is threatened from above by the hanging ice cliff known as the Dablam (necklace). The collapse of part of the Dablam wiped out a number of climbers in the past. Our Camp 3 is a little bit lower but isn't threatened by this kind of unpredictable avalanche.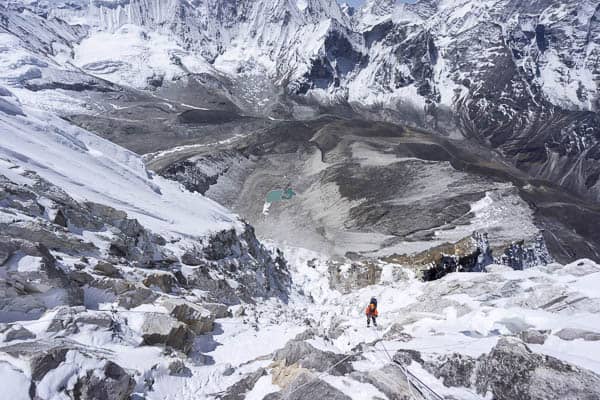 The final 450m climb from the top of the Mushroom doesn't contain any surprises but involves 8 to 10 pitches of consistent ice climbing. Or at least that's what we planned for. The ice was rotten and soft and required snow stakes for protection. I'd listened to one of the local sherpas and followed his advice not to take snow stakes. We'd be unprotected on the climb without them. It was at this point that we decided to turn back. The cloud was already building too, and by the time we reached camp it was snowing once again. It was time to descend, restock, re-energize and return to our stash of equipment in a better state.
We've had seven days on the mountain, four nights of which were on our exposed and isolated ledge at 6220m. We've learnt that pushing through steep terrain at altitude is very humbling. Three or four normal steps, or one big move will halt us for 20-30 seconds while we catch our breaths and get our heart beat back below 100 bpm. Even our resting heart rates are 20-30 % higher than normal. This obviously requires more fuel. We've generally had no problem with our appetites, but the contradiction is twofold; eat too much and we'll feel nauseous and confused as our blood is diverted to our stomachs, and we can't possibly carry all the calories required in food form. It's simply too heavy.
Our final rest day today at Pangboche will put us in a good space for another attempt this Wednesday or Thursday. We've now conceded that a successful summit may happen in a whiteout.
Thanks for all your well wishes. Stay tuned for progress.
Greetings and Namaste from Pangboche,
Gavin and Damien