Antarctica, The White Continent – Once in a Lifetime Adventure
Length: 22 Days
 ex Ushuaia
When: February 2021
Investment: $31,900 NZD
Expedition Overview
EASY to MODERATE MOUNTAINEERING AND SKI TOURING on the ANTARCTIC PENINSULA.
GUIDE TO CLIENT RATIO 2:7
First Light Guiding is proud to present its first foray into the pristine waters of Antarctica. This itinerary offers a unique blend of experiences sailing by Yacht with a small team.
We offer a low impact, high client satisfaction trip, with close guide to client contact. We will have the freedom and resources to alter our itinerary en route depending on the weather, and the abilities and objectives of the group. There are quicker, more expensive ways to get to Antarctica, as well as cheaper, more crowded cruise ships. We believe this is the best blend of options to achieve the highest level of outcome and satisfaction whilst still maintaining environmental care.
All logistics and organisation is handled for the duration of the expedition ex Ushuaia in Argentina.
We will have exclusive use of the 'Australis', a 23m yacht skippered by Ben Wallis, whose knowledge and experience in the area is unsurpassed. This nimble vessel will allow us to use anchorages that aren't accessible for the larger boats.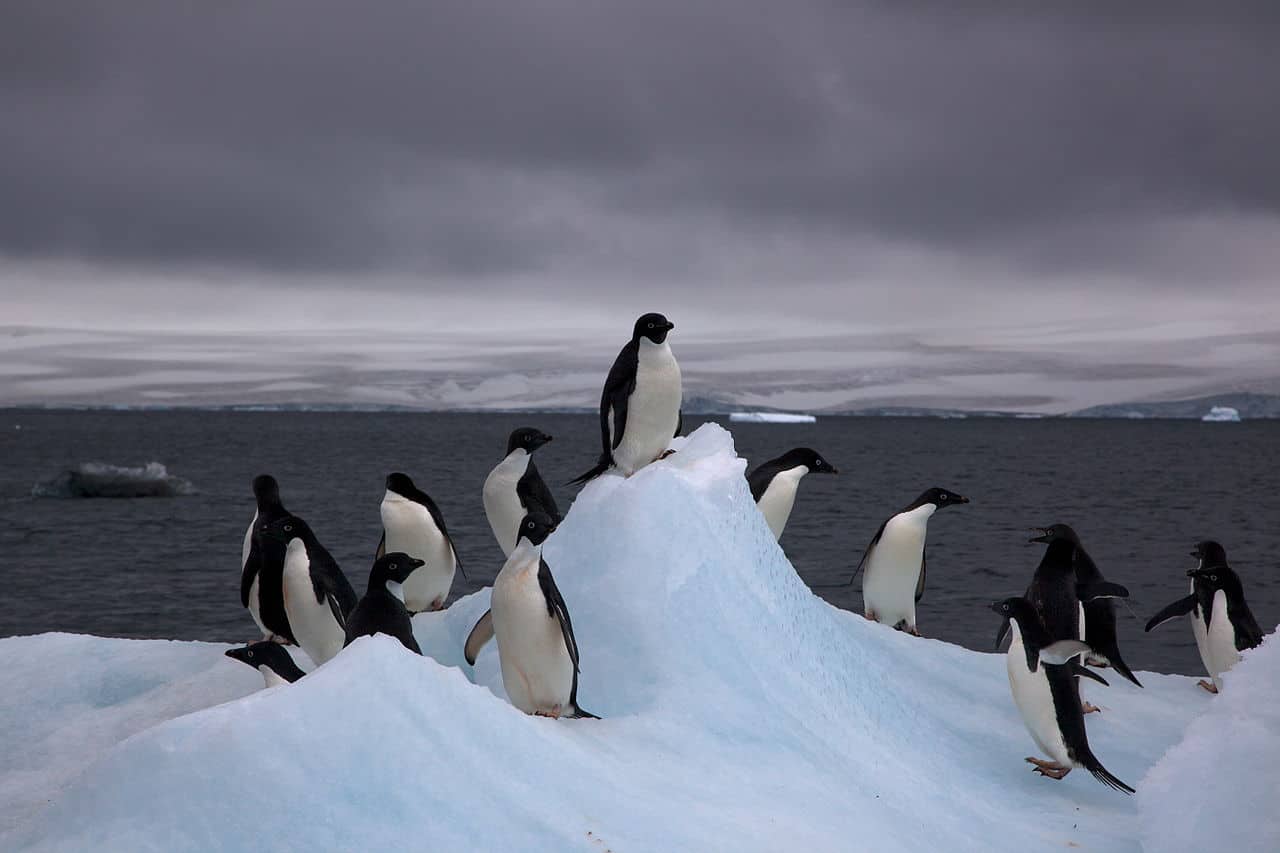 The Itinerary
We meet in Ushuaia in the evening of day 1 for a welcome dinner and briefing. The following morning we load the boat, prepare our departure papers, depart Ushuaia, sail down the Beagle Channel and swing south past the infamous Cape Horn. Albatross and petrels accompany our Drake Passage crossing where we encounter variable seas and icebergs. On Day 5 or 6 we reach Palmer Archipelago, an island chain of soaring mountains and boisterous wildlife – gateway to the Antarctic Peninsula.
Sailing the Drake Passage is a memorable expedition in itself and the 2.5 to 3 day crossing will be a test of sea legs.
Once on land or snow again, our first objective will be to reacquaint with the important skills of glacier travel and rescue. This exercise will ensure confidence levels and teamwork is raised to the highest level.
We will explore the many options available to us, such as Port Lockroy, Mt Scott, Mt Shackleton, Lemaire Island, Charver Island and Ronge Island amongst others. We will move south onto new objectives and will occasionally move the expedition onto the ice for an overnight adventure in order to maximise our chances of success and minimise sailing through icebergs in the dark!
We have the freedom to climb grounded icebergs and explore virgin summits, to marvel at sculpted ice in sheltered waterways by Zodiac. And there's plenty of time for relaxing on board, revelling in the wild scenery. Camera or binoculars in hand, searching for Crab-eater, Weddell and Leopard seals can be an adventure in itself.
Much of the climbing potential is largely untapped but there are some well-known and reliable objectives, snow shoe or ice climb straight out of the boat. Our itinerary varies depending on your desires.
Wildlife
Gentoo, Macaroni, Chinstrap and Adélie Penguin (pictured) rookeries vie for our attention; Antarctic history beckons from Port Lockroy, Wordie Hut and Ukraine's Vernadsky Station. Crossing Gerlache Strait or slipping quietly down Lemaire Channel, we watch for bubble-netting Humpbacks, Hunting Orcas and pods of Minke Whales.
Photography
Tourists from all over the world travel to Antarctica for this objective alone. You will suddenly be faced with so many unique and interesting landscapes and subjects. Make sure to bring a waterproof or weatherproof camera and dry bag system. If taking the pictures yourself is not your thing, I will make videos and photographs available free of charge in web shareable format (low-res) or high resolution prints or downloads available at an extra cost depending on your requirements. All expedition members will get exclusive access and discounts on products from Gavin Lang Photography.
Temperature
Because the Antarctic Peninsula, which reaches north of the Antarctic Circle, is the most northerly part of Antarctica, it has the mildest climates within this continent. Its temperatures are warmest in January, averaging 1 to 2 °C. Its west coast from the tip of the Antarctic Peninsula south to 68°S, which has a maritime Antarctic climate, is the mildest part of the Antarctic Peninsula. Within this part of the Antarctic Peninsula, temperatures exceed 0 °C for 3 or 4 months during the summer, and rarely fall below −10 °C during the winter. The colder temperatures of the southeast, Weddell Sea side, of the Antarctic Peninsula are reflected in the persistence of ice shelves that cling to the eastern side.
Fitness and Skills Requirements
You need to be in good shape with some previous mountaineering skills and ability. If either of these is an issue you can schedule a pre expedition refresher to build up or regain these. If you want to delve deeper into specific training, consider all or part of the techniques outlined in this extensive article on Mountaineering Fitness.
You need to be able to carry a 10-20 kg pack whilst ski touring or climbing for up to 12 hours, depending on the objective. Some weather windows may only be large enough to make a one day push. Relaxing on the boat with a camera, binoculars and your favourite hot drink is also an option.
Food
All meals will be served by the boat staff in the Saloon and will be highly nutritious. Let us know if you have any specific dietary requirements.
All overnight meals and off boat snacks will be provided by your guides, supplemented by sandwiches or similar made on board the Australis.
The Boat
Read more about the Australis here.
Antarctica Mountaineering Expedition Cost
$31,900 NZD per person based on 7 people.
Minimum number of participants is 4.
Deposit and Cancellation schedule:
A non refundable* deposit of $15,000 is required to secure your place.
The balance payment is due 6 months before departure.
*If minimum numbers are not reached then the deposit will be refunded, less a $350 admin fee.
If maximum numbers are not reached then a surcharge will apply – see below.
Securing the Australis and associated logistics takes a lot of time and forward planning. It is our goal to ensure that the trip departs no matter what obstacles get in the way. You need to be prepared to pay a surcharge if there is 4-6 participants in total.
The cost per person in that case is as follows:
Guide : Clients
2 : 6 $37,200 NZD per person
2 : 5 $44,660 NZD per person
1 : 4 $55,825 NZD per person
Private charters for less than 4 people are available on request. Please enquire for details.
Cancellation at any time forfeits the deposit.
Cancellation within 6 months of departure forfeits the full amount
Note: Taking out comprehensive travel and mountaineering insurance at the time of booking is compulsory for international expeditions.
Your insurance provider, provided the reason for cancellation falls within the terms of the policy, may cover these cancellation charges. It is wise to protect your investment with this kind of cancellation insurance as well as adequate medical cover in the unlikely event of needing other medical services.
How to book
Complete the booking form.
Make a bank deposit of $15,000 NZD to the following account:
Bank: ANZ
Account Name: FIRST LIGHT GUIDING LIMITED
Account number: 06-0949-0335181-02
Account Type: NZD
If you are making an international transfer you will need the following:
Account number: 06-0949-0335181-02
SWIFT code: ANZBNZ22
First Light Guiding Address: 3 Turnbull Crescent, Wanaka 9305, New Zealand
Bank Address: 34 Grant Road, Frankton, Queenstown, New Zealand
A medical questionnaire will be emailed and is required to be completed in the presence of your doctor. An equipment list and further information about sailing on the Australis will be sent too.
Inclusions:
All boat charter costs ex Ushuaia for the duration of the scheduled itinerary including food, beer, wine and drinks on board
Guides Fees
All vessel authorisations for Antarctica, and port fees and taxes
The use of two Zodiacs and kayaks
Group – camping, cooking and survival equipment, ropes, anchors
Welcome meal in Ushuaia in the evening of day 1
First Aid Kit, Satellite Phone (for emergency use), PLB (Personal Locator Beacon).
Celebration meal in Ushuaia on the evening of the final day of the scheduled departure
Exclusions:
Air fares
Mountaineering, Medivac and cancellation insurance is compulsory and I strongly recommend you purchase it as soon as you pay your initial deposit. This is your only back up in case of unavoidable cancellation.
Personal equipment (e.g. axes, crampons, harness, skis) and clothing
Accommodation in Ushuaia or bus transfers to Ushuaia.
Personal equipment or clothing.
Additional costs associated with early departure, evacuation or deviation from the itinerary due to illness or otherwise.
Tips or any other expenses not specified
info@firstlightguiding.com