Issue 90 of The Climber magazine
Issue 90 of The Climber magazine, features one of my photographs. It's amazing what momentum has been generated since I decided to really pursue sales of my photographs. It feels as though the universe is conspiring to help me along. It's quite rewarding to see a photo like this on the cover of NZ's prominent climbing publication. I've had many shots in The Climber and the Alpine Journal before, but the previous best was on the rear cover.
Just to give you an insight into this photograph, as there's always a story attached to mountaineering shots:
We'd had a bunch of fresh snow fall so the travel in the valley was slow and cold. Starting at 4am we set off in the fog and remained in the cloud the whole morning. After seven hours of effort we got to the Pass (the point where Jane is standing) but we were still in the cloud. Faced with very little visibility during a steep climb, we were about to head home when the clouds parted to reveal our surroundings. Although it looks nice and snowy, the south face in the background (Mt. Sealy) had very little ice on it, so the climbing would be either too loose, too slow, too hard, too dodgy or all of the above. We were after solid ice …lots of it. It felt like retreat and return another day would be our best bet. This is where the effort of carrying my Digital SLR paid off. I pointed to where I wanted Jane to climb to and promised jokingly that I'd get her on the cover of The Climber.
The rest is history.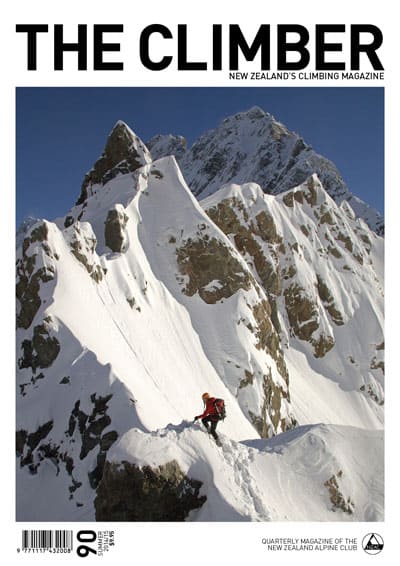 By the way, this shot, plus many more mountain, landscape and urban shots are for sale at www.GavinLangPhotography.com
Drop me a line or leave a comment below.